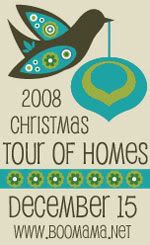 Welcome to Boo Mama 2008 Christmas Home Tour! Come on in! Be sure to wipe your feet at the front door because it is icy outside today. The schools are closed and we are looking forward to alot of you coming by in spite of the ice outside!
I found some interesting little reindeer last year in an after-Christmas sale so I was anxious to use them this year on my dining room table.
My tree is all white and silver with snowflakes and reindeer.
I wanted to do something different this year for my nativity. I was thinking of something very simple without all the shepherds, wise men. When I think of the night our Savior was born, Mary and Joseph were alone. Can you imagine how that felt to be alone in a stable getting ready for the birth of your first baby, not really knowing what the future would bring?
Yet, God's Word says the angels were there when Mary gave birth to her first-born son and wrapped him in cloths and laid Him in a manger. Then God's Word says Mary pondered all these things in her heart! How she must have been in such wonder as to what transpired that wonderful night!
This is why we celebrate!





I am so glad you dropped by! Please come sit down for a few minutes before you go on to the next home and have a cookie and a cup of hot chocolate!
Have a wonderful tour !